Take a dip in the heated pool
camping in La Bourboule
Campsite with heated swimming pool in the Massif du Sancy
The pool is open from 11am to 8pm between late June and early September.
Heated and open to the public, the pool features a single 120 m² (17m x 7m) pool with a new, innovative design!
The pool starts with a progressive depth range up to a maximum of 30 cm, ideal for small children and parents' peace and quiet.
A few steps lead down to the large pool, which has a constant depth of 1.50 m.
The pool area is covered in artificial turf, with deckchairs, chairs and tables.
As swimming is unsupervised, parents are responsible for supervising their children.
For reasons of hygiene and water purity, shorts and swimming trunks are not permitted.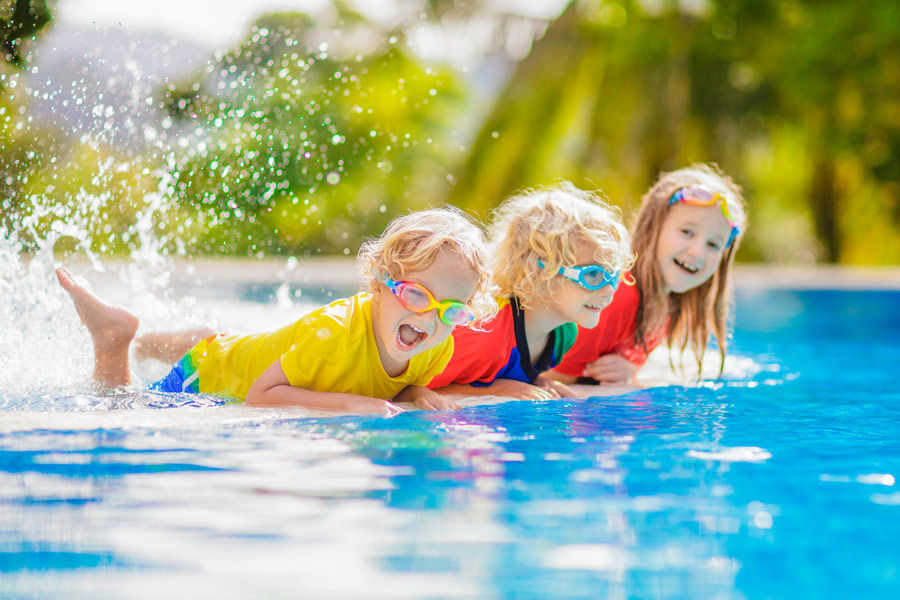 The campsite paddling pool
Children and water, it's a great love story! So little ones can have fun, cool off and splash around as much as they like, even if they don't know how to swim yet.
At the Les Clarines campsite near the Massif du Sancy, the submerged beach and its small volume of water provide a paddling pool for family bathing time.
Children can splash around safely in the first part of the pool, with a maximum water depth of 30 cm.
Ideal for young children, the paddling pool is a gentle way to familiarize them with the aquatic environment.

Sunbathing by the pool at La Bourboule
Vacations in the mountains are often synonymous with hiking and other sporting activities.
What could be more relaxing than sunbathing by the pool or reading a book after a good walk or bike ride?
While the kids play in the campsite pool, you can relax in the sun.
Let yourself be tempted by this essential moment of decompression during the vacations!
Spa treatments, activities and camping rates